Top 10
Lagos Rail Mass Transit Blue Line: 10 Facts You Need To Know
Lagos Governor Babajide Sanwo-Olu will lead government officials and stakeholders on the first ride as the Lagos Blue Line Rail starts running today.
Former Nigerian President, Muhammadu Buhari, inaugurated the rail service in December 2022 under the supervision of the Lagos State Metropolitan Area Transport Authority (LAMATA).
Delays in the electricity infrastructure pushed the commercial launch to the first quarter of 2023.
However, LAMATA has been actively transporting passengers to ensure seamless integration between infrastructure and completed work.
What is Lagos Rail Mass Transit?
The Lagos Rail Mass Transit is a fast train system in Lagos State. It is run by the Lagos Metropolitan Area Transport Authority (LAMATA).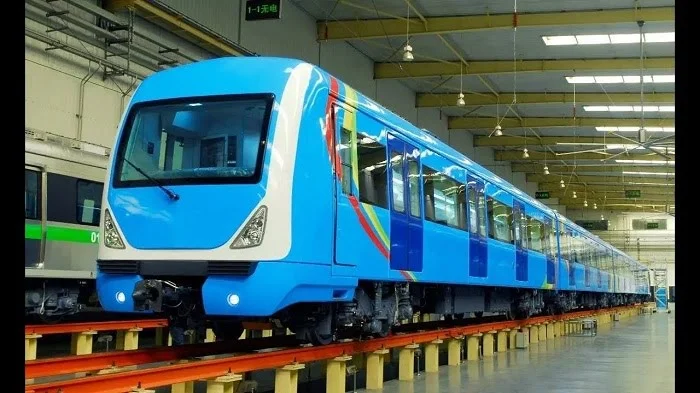 Private companies will provide railway equipment like electric power, signals, trains, and ticket systems through a contract.
LAMATA handles policy, rules, and building the network's infrastructure. The first part of the network, Phase I of the Blue Line, faced delays due to money issues and government changes.
In February 2021, the Lagos State Government said the Blue and Red Lines would open by December 2022, but the Blue Line actually opened on September 4, 2023.
What you need to know
LAMATA's study predicts that around 175,000 passengers will use the Blue Line rail daily.
The Blue Line rail operates on electric power for the first time, and LAMATA has taken great care to address power, health, safety, and operational concerns to ensure passenger safety.
The rail will run from 6:30 a.m. to 10:00 p.m. every day.
Initially, there will be 12 daily train trips from Mile 2 to Marina, gradually increasing to 30 trips after four weeks.
Train schedules will be available on LAMATA's website and at every station.
Trains are scheduled to stop for no more than 90 seconds.
The Blue Line Rail spans from Marina to Mile 2, with stations at Marina, National Theatre, Iganmu, Alaba, and Orile.
Passengers must use Cowry Cards and are not allowed to eat or drink on the train.
The initial fare from Marina to Mile 2 was N750, reduced to N375 thanks to Governor Sanwo-Olu's intervention. Other fares are N500 from Marina to National Theatre and N400 to Iganmu-Orile.
Passengers and commuters should avoid crossing the track of the Blue Rail line to prevent electrocution, as overhead bridges are available for safe crossings.